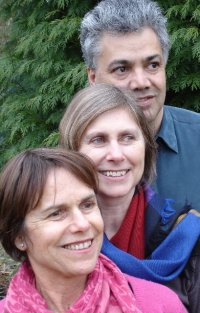 Miri, Hanna, Andy
We are neighbours and friends who enjoy singing together.

We have tried to let the songs speak for themselves and hope you will enjoy listening to them as much as we enjoy singing them.

Miri was born and brought up in Sarid, a kibbutz five miles east from Nazareth in the Lower Galilee.
Music has always played a very important part in Israeli life and many beautiful songs have been written over the years, songs that reflect the atmosphere and experience of life in this lively country.